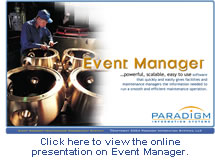 …powerful, scalable, easy to use software that quickly and easily gives facilities and maintenance managers the information needed to run a smooth and efficient maintenance operation.


| | |
| --- | --- |
| | Complete CMMS Solution |
| | Palm Interface |
| | Multi user |
| | ESR |
| | ESR Web enabled |

Event Manager is a computerized maintenance management software package that manages preventative and corrective maintenance tasks. It also assists in resource tracking and parts inventory. Over 80 standard report templates are included with the system. It is powerful, yet easy to use. Other key features include work order generation and processing, equipment history and tracking, web-based electronic service requests, parts inventory and a hand held device interface for closing work orders.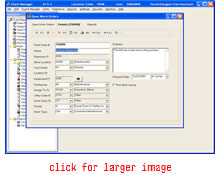 | | |
| --- | --- |
| | Documents and tracks work orders from request to completion |
| | Capture maintenance information at the point and time of service using Palm Pilot ™ PDA's. |
| | Significantly reduce data entry by automatically loading the information from then Palm Pilot into the system. |
| | Track schedules and perform preventative maintenance tasks |
| | Sophisticated reporting capabilities. |

| | |
| --- | --- |
| | Work Orders – Document user requested and system generated work orders. Track the assignment of work orders to a technician/mechanic. Reduce or eliminate phone calls using the web-based ESR (electronic service requests). |
| | Equipment – Manage all equipment assets. Capture detailed history on all equipment specific maintenance. Schedule PM Procedures. Store multiple images of each equipment asset in the database. |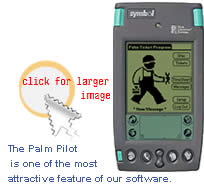 | | |
| --- | --- |
| | Parts Inventory – Keep a full inventory listing, including bin locations and on hand quantities. Specify parts usage on work orders. Lookup parts inventory records in other facilities. Parts Depot function supports operations with a centralized warehouse. |
| | Mobile Interface – Use palm pilots to capture information at the point and time of service. Reduce or eliminate data entry. Use barcodes on work orders and equipment to increate accuracy. Very simple and easy to use. |
| | Reporting – Perform detailed analysis on the entire operation using 80+ standard reports. Create an unlimited number of custom reports using industry standard Crystal Reports. Modify standard reports as needed for custom needs. |